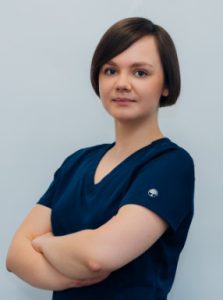 MA
Barbara West
---
Specialty: physiotherapy
Place of work: 6A Zwycięska Street, Lublin
---
Information
Graduated from the Medical University of Lublin with a degree in Physiotherapy - 2018.
She completed postgraduate studies: Teacher Qualification. Pedagogical Preparation and Sensory Integration.
He performs kinesitherapy, therapeutic massage and physical therapy treatments.
She especially appreciates contact with children and adolescents. Among other things, she conducts gymnastics for scoliosis and postural defects using the PNF method, as well as instructional and general development exercises.
Completed courses and training:
Pnf basic
Scoliosis-diagnosis and physiotherapeutic management
Pilates method in the practice of a physiotherapist
Veronica Sherborne's Developmental Movement Method
Kinesiology taping
Trigger point therapy
Level I sensory integration therapy
Hand Therapy Training
Workshops: MTG- musculo-fascial release, Kinetic Control